My favorite free audio plugins for ProTools on Mac OS X
---
! THIS ARTICLE HAS BEEN UPDATED FOR PROTOOLS 10 HERE !
---
" we want free audio plugins ! , we want free effects like VST for Windows, is this so hard to understand ?... "
-one student-
Hi there,
It's been a long time I should have written an article about free audio plugins for ProTools.

My students have often this reaction about ProTools "plugins are expensive !!! (angry face)"... It is absolutely true but...

"First you have now a very wide variety of free audio plugins included with your ProTools such as reverb, delay, compressor, limiter, eqs... even bundled with the smallest micro-nano-mini Mbox interface.

that's to start !... and you can expand it at a very reasonable price if you wish..."

"ok but that's not the point right now, we want free stuff, we want free audio plugins, we want free audio plugins, we want free audio plugins !!!... (ad lib), we want free effects like VST for Windows (still angry faces !)"

Well... hhhhhhh
That's why I decided to build a selective list of my favorite free audio plugins for ProTools.

I should mention that I use a ProTools 8 on a MacPro running Mac OS X.5.8, so the following information is related to RTAS free audio plugins on Mac OS X machines with Intel processors.

Having said that, I have not tested all configurations, & I can not assure you that all the free audio plugins will work for you, I don't know what you know about this & that, so don't blame me if something is wrong on your machine... free audio plugins are provided "as is" and courtesily by their owner so you shouldn't expect much support for them and you should always refer to the digidesign support for compatibility versions etc...

I can't stress enough on that point, IMHO, free audio plugins are "gifts" so be fair, be happy to receive gifts don't ask to have the full package for nothing, developping plugins is hard work...

I should also mention that my free audio plugins list is not the ultimate one, you will certainly find plenty of other free audio plugins elsewhere on the web with a little bit of research. Moreover I don't pretend to be a free audio plugins provider, neither than a warez & keygen provider, so please stop mailing me for that. All the free audio plugins listed here are subjectively selected on the only purpose to help my students. Period.

...we want free audio plugins, we want free audio plugins, we want free audio plugins !!!...
ok ok, here you are :
EQS & FILTERS

bx_cleansweep Brainworx



bx_cleansweep is a new Hi-Pass filter and Lo-Pass filter plug-in from Brainworx, introducing the new "Anti Crush Technology":
Analog style filter curves without the typical Nyquist problems, in a new great sounding filter design (taken from our pro mastering EQ bx_digital V2!)... Ffirst order filters (6dB) guarantee an extremely musically sounding filter set, and unique joystick control (taken from bx_hybrid) gives you fast and intuitive control.
bx_cleansweep is the plugin that should go into EVERY mix channel as the first plugin. This way you can filter out any unwanted hi-end and lo-end, and the result is a clean and tight mix. Ever thought about why there are Hi-Pass and Lo-Pass filter in EVERY channel of the most expensive analog consoles (SSL, NEVE, etc.), but why most EQs are missing this feature??
Download it here.


Free Ranger - Free Analog Code® SPL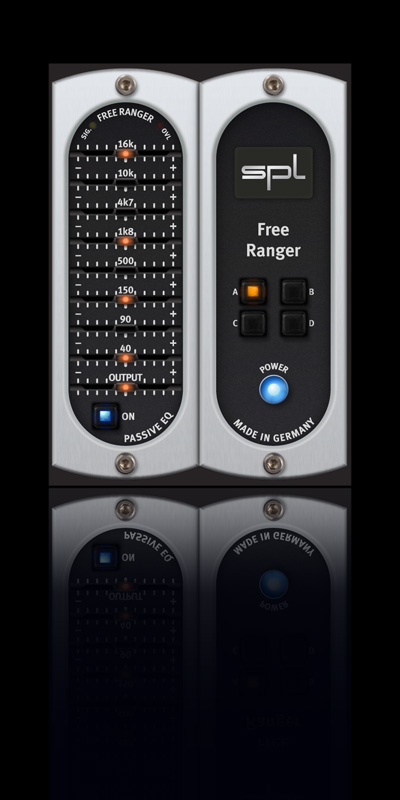 Free EQ plug-in which offers 4 bands and 4 preset slots.
An EQ processing straightly reveals the sound quality of a software – probably better than any other processing tool. Therefore, the Free Ranger ideally demonstrates the amazing qualities of our Analog Code plug-ins.
Features
The Free Ranger is based upon the Full Ranger-EQ from our EQ Rangers series. It is limited to four – we think very useful – bands:
* 16 kHz center frequency – Boost: Glitter, brilliance, air.
* 1,8kHz center frequency – this is THE EQ test frequencies.
An EQ that sounds good here is a good EQ. Therefore it makes a lot of sense to compare EQs in that range.
Applications examples: Boost for more bass definition and presence, cut reduces metal for brass.
* 150 Hz center frequency – Boost: more warmth for everything, main impact of bass instruments, fuller, fatter snares. Cut for vocals: avoids collision with bass.
* 40 Hz center frequency – Boost: in general fuller sounds, deep bass punch (kick drum). Cut: reduces booming sounds and sub harmonic interferences.

Download it here




Frohmage - Ohm Force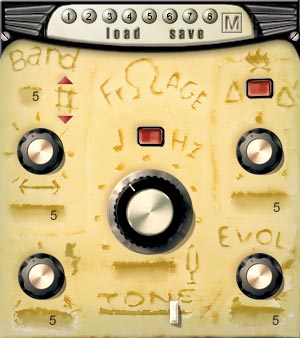 Frohmage is a funny resonant low-pass filter.

Carateristics :
- Highly resonant low-pass filter
- Cutoff frequency unit selection : Hz or musical note
- Up to 15 additional bands, harmonically distributed
- Delay on each band for unique phaser effects
- Distortion stage, with two routing schemes
- Very fine MIDI control (PRN and NPRN sent or recorded by Frohmage are 14-bit accurate)
- Low CPU load

Download it here



DELAY

Delay Trio SoundHack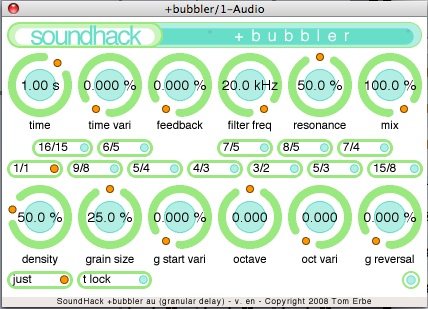 SoundHack Delay Trio is a group of three plugins derived from the same basic delay algorithm: a hermite interpolated delay line with variable modulation, and a feedback loop with dc blocking and saturation. Pitch shifting is achieved with a dual head crossfading delay (ala Eltro Tempophon/Dennis Gabor/Pierre Schaeffer phonogene) and is decidedly low-fi. The saturating feedback also allows them to be great drone and noise generators.
The three plugins are +delay (classic delay effects), +pitchdelay, (essentially the same plugin with controls oriented toward pitch shifting), and finally +bubbler (a granular delay in which grains are pulled from the delay line with randomized start time, delay time and pitch shift value).
Download it here.


Squid Delays by Arvid Tomayko-Peters


A pair of simple, utilitarian delay plugins for use in Cycling '74's Pluggo environment - compatible with AudioUnit, VST and RTAS hosts.
Squid-Delay Mini is particularly suited to creating delay-based stereo positioning effects.
Includes plugins for both Pluggo 3.5 (PPC) and 3.6 (Universal Binary), as well as the Max/MSP source code.
Attention : it requires Cycling'74's Pluggo Runtime or Pluggo Jr. (recommended because it comes with some free C'74 Pluggo plugins along with the runtime environment) and an AU, VST or RTAS host.
Download it here.


GAIN, DISTORTION, AMP SIMULATOR

Studio Devil British Valve Custom




Guitar Amp Modeling Plug-In for Mac and Windows
* British High-Gain Amp emulation based on Marshall® stack!
* Power Amp Drive Control to adjust natural power amp compression.
* Built In 4x12 Cabinet Emulation!
* Realistic Tone Controls: Bass, Mids, Treble, and Presence
* Professional Sampling Rates: 44.1kHz, 48kHz, 88.2kHz, 96kHz, 176.4kHz, and 192kHz support!
* 4X Up-Sampling Engine with 64-bit Floating-Point Internal Precision
* Compatible with Windows and Mac VST hosts!


Download it here.


SamsAmp PSA-1


Tube Amp Simulator Plug-in

The preferred choice of touring artists and recording professionals worldwide, the SansAmp PSA-1 provides the widest range of amplifier, harmonic generation, cabinet simulation, and equalization tone shaping options available.
You've heard SansAmp on thousands of recordings, on everything from drums and bass to vocals and harmonica.
Add warmth and punch to existing tracks, or record bass and guitar direct into Pro Tools the right way with the SansAmp XDI direct recording interface (available separately). Capture guitar free of muddy sound degradation or excess noise — then go digital and dial up any tone imaginable.
Download it here.


THC distortion stompbox - Massey Plugins


THC is a highly accurate analog-modeled distortion pedal. THC delivers true analog-like sonic quality. THC can be used to dirty up any audio material -- try it on vocals, organ, drums, and, of course, guitar.
Download it here.



SPECIAL EFFECTS

Cohmpost - Ohm Force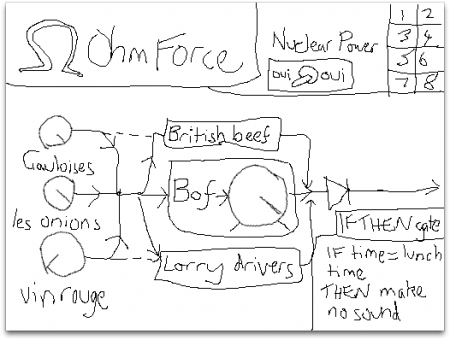 Funny plugin... Just Try it.
Download it here.


Vynil - Izotope



The ultimate lo-fi weapon, iZotope Vinyl uses 64-bit processing and advanced filtering, modeling and resampling to create authentic "vinyl" simulation, as if the audio was a record being played on a record player.
Download it here.


DYNAMIC TOOLS

Freesound bundle - SoundHack



5 small useful plugins

+chebyshev a distortion unit which uses various low-order chebyshev polynomials to add even or odd harmonic distortion.
+compand +compand is a combined compressor/expander plugin. It has a softknee control as well as a switchable rms/peak level detector.
+decimate bit depth and sample rate reduction for added aliasing and decimation noise. a very noisy plugin.
+matrix a mid-side to left-right encoder and decoder. for mid-side microphone arrays, but also useful when needing to apply effects to only the center or the sides of a stereo mix.
+phasescope the standard studio tool for seeing the phase relation between your left and right channels. also includes a bit meter.
Bitter Sweet - Flux



Audio transients dynamic processor.

Turning the central button to the sweet side decreases the transients amplitude. To the bitter side, the transients amplitude is magnified. BitterSweet also features a control for processing the signal. When the main position is selected, the process affects the stereo signal. If Center is selected, only the M signal of the internal MS matrix is processed. If stereo is selected, only the S signal from the MS matrix is processed. Three transient detection modes can be selected. Varying periods of integration for transients can be accessed. A Link function is available to compensate the output gain with respect to the transient processing setting.
Like all Flux:: plug-ins, it features 64 bit floating point processing, up to 8 channels and up to 8 FS (384 KHz). Center and Stereo Modes are only available in stereo processing (2 channels).
We hope you will enjoy this new toy and make your Mix Sweeter or Bitterer.
BitterSweet II is only available in native version for AU, RTAS and VST.
Neither Flux or iLok dongle, nor registration are required.

Download it here.


STEREO TOOLS

bx_solo - Brainworx



bx_solo is a nice little tool that we have designed to get you STARTED with and used to the way we approach the M/S technique - be it for recording-, mixing- or mastering purposes. The "heart" of our M/S tools are our unique SOLO BUTTONS that allow you to actually LISTEN to all components of a stereo mix / stereo signal individually:
L(left channel), R(ight channel), M(ono sum) & S(tereo difference signal) - and all this PHASE CORRECTED (when needed) and mono-ed out on BOTH SPEAKERS of your system. This is very helpful when working in M/S modes (because especially listening to only the S-signal of a stereo mix is not so easy to do with modern DAW stations) and to check your signals / mixes for errors, noises, clicks, whatever...
bx_solo also contains a STEPPED M/S STEREO WIDTH CONTROL, so you can get an impression about what you can actually do with ist. Do try it out on subgroups (makes ROCK GUITAR subgroups jump out of your speakers at about 150% !!!), FX returns, keyboards / samplers, etc.
>>> Using the STEREO WIDTH CONTROL too heavily may lead to phase problems. bx_control & bx_digital both have the MONO MAKER on board - this tool will be able to get rid off these phase problems with its UNIQUE way of mono-ing out your stereo signals / mixes ONLY IN THE BASS FREQUENCIES - MONO MAKER is the solution - unless you really over-do the settings...

Download it here


Stereo Tool - Flux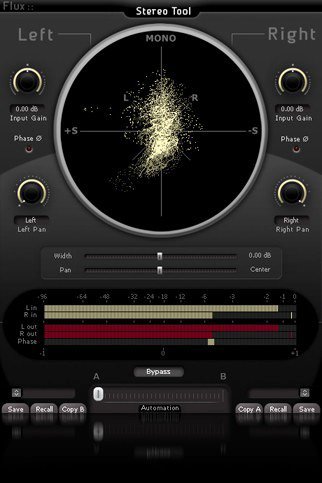 Stereo Tool features ultra precise control of input gain and individual pan for left and right channels. A phase inverter is available on each channel. Global stereo pan and stereo width settings are also implemented to complete the management of the stereo signal.
Stereo Tool also offers accurate visual feedback reflecting the signal content. A vector scope display, PPM meters for both inputs and outputs, and a phase correlation meter permanently monitor the signal.
Inserting our Stereo Tool after a BitterSweet II, will open your mind to new ways of controlling the stereo stage.
Like all Flux:: plug-ins it features 64 bit floating point processing, up to 8 FS (384 KHz).
Stereo Tool is only available in native version for AU, RTAS and VST.
Neither Flux or iLok dongle, nor registration are required.
Download it here.


METERING & CONTROL TOOLS

FreeG - Sonalksis


The Sonalksis FreeG is an intuitive tool that can be used for a variety of applications to increase the control and flexibility of the signal flow in the insert chain of the host.
To make the workflow and the overview of the signal processing easier, FreeG provides extended, customizable metering features and settings.
Applications :

When working with digital audio, lack of fine metering and extended signal flow control in the host is a common issue. The intentions with FreeG is to improve the workflow in the host by providing these features in the insert chain.
By providing the possibilites of extended control of amplitude, phase and pan (stereo version) in the insert chain as well as fine metering, with user configurable industry standard parameter options, the range of applications for FreeG is almost only limited to the context of the actual usage and of course, the insert chain.
Download it here.






SignalTools - Digidesign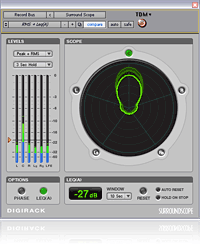 SignalTools is a suite of multi-channel metering and analysis tools included in the free DigiRack™ plug-in collection. Compatible with all Pro Tools® systems and VENUE, SignalTools includes the redesigned SurroundScope plug-in and introduces the new PhaseScope plug-in. With a comprehensive set of features, an easy-to-use interface, and capabilities for hands-on operation, SignalTools plug-ins give you the tools you need for precise level control and phase coherence—live or in the studio.
SurroundScope and PhaseScope include support for different meter types (RMS, Peak, VU, and more), peak hold preferences, and Leq(A) metering. Ideal for surround mixing, the SurroundScope plug-in shows a graphical representation of signal levels for each audio channel in the multi-channel sound field. PhaseScope, on the other hand, is invaluable when comparing the output phase of a stereo track or any two streams of a multi-channel output where perceptual coding might take place.
SignalTools are invaluable for achieving more accurate mixes. The simplified user interface makes it easy to select channels for Leq(A) or phase comparison—just click on the channel buttons surrounding the display to focus the meters. The scales and other parameters can be addressed from a mixing worksurface such as Digidesign's ICON, Control|24™, or Command|8® for maximum convenience.
Download it here.


BUNDLED PLUGINS

Blue Cat's Freeware Plugins Pack

Blue Cat's Freeware Plugins is a 9 plugins pack including :
- Blue Cat's Chorus
- Blue Cat's Flanger
- Blue Cat's FreqAnalyst
- Blue Cat's Gain Suite
- Blue Cat's Phaser
- Blue Cat's Stereo Chorus
- Blue Cat's Stereo Flanger
- Blue Cat's Triple EQ

Download it here.


I will update this page with more interesting & useful free audio plugins for ProTools as my list grows, but for the moment
That's all for today...


Peace.

Sam.


PS : TO DEVELOPPERS
If, for any reason, you don't to appear in my favorite free audio plugins list, please send me a mail & I'll remove your products.

---
Go from Free Audio Plugins to Free virtual instruments ?

Go from Free audio plugins to Music Production ?

Return to Home ?
---
! THIS ARTICLE HAS BEEN UPDATED FOR PROTOOLS 10 HERE !
---
Have A Great Free Audio Plugin for Mac OS X to suggest ?
Do you use a powerful and useful free audio plugin ? Share it!
What Other Visitors Have Said
Click below to see contributions from other visitors to this page...

x-over

x-over for active loudspeaker systems, with Bessel, LR and Butterworth characteristics, using 1st to 8th order. would be great Best, Ruud
Recording DAW & VST plug-in for free (or a small price)

As a recording DAW you can try REAPER (http://www.reaper.fm). Reaper is a professional recoding DAW with anything in it and supports both MAC & PC. It's …
FXpansion VST2RTAS another great way to get more and more audio plugins

Hi ! This is a cheap trick but... when I was student (me too...) I bought the FXpansion plugin converter VST2RTAS. I think it's a valuable tool to have …