Sonic Big Bang
music composition & sound design lab.
You said rock'n'roll soundtrack ?

A small entry for soundtracks amateurs...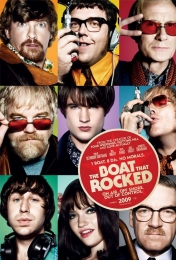 Last Tuesday evening, I went to theater to see "The Boat That Rocked".I had no particular idea of what the film was about. All I knew was : brittish comedy, very refreshing... a friend of mine who works in a theater told me "you should go, everybody seem to be happy when going out".
So then, I went...

I think it was the best idea I had for a few weeks, at first we were decided to go and watch the last Pedro Almodovar movie but we arrived a bit late so, as I really hate to miss a single minute of the beginning of a movie, we finally tried "The Boat That Rocked".

First I laughed a lot. It's a very punky, smashing, sparkling comedy. The first 90 minutes are beautifully written and I never stopped laughing. Really...

But best of all, the soundtrack OMG !!!
This is the best 2009 OST for sure ! you can't beat it. It really brights & serves the movie, no doubt about it 'cause this film is about "pirate radios" in England in the mid 60's. So you will ear something like 50 selected "hits" and rarities from this period...

Just to appetize... For what I can remember :
# "All Day and All of the Night" (The Kinks)
# "Elenor" (The Turtles)
# "Wouldn't It Be Nice" (The Beach Boys)
# "With a Girl Like You" (The Troggs)
# "The Letter" (The Box Tops)
# "My Generation" (The Who)
# "The Wind Cries Mary" (Jimi Hendrix)
# "A Whiter Shade Of Pale" (Procol Harum)
# "Father and Son" (Cat Stevens)
and so on...
you can see the complete listing on imdb here
I can not imagine the selection audio work for this movie but all I can say is "you rocked" !


Return from "You said rock'n'roll soundtrack ?" to Home ?


Leave your comments
So ? what you think ? Share with us about this article and leave your comments...