Sonic Big Bang
music composition & sound design lab.
Surround mixing plugins with Protools LE / 9
Hi there !


It's been a while since I started looking for low-budget surround mixing solutions with Protools.

In fact, I was wondering why there was no plugin to mix in surround in Protools LE whereas it has always been a high request from a lot of customers (including me !).

I manage myself with busses and auxes for years, dealing with an old Yamaha 02R to do it the cheapest way, but it was always a pain in the ass to achieve it at home... At the studio, we don't have that kind of trouble with protools HD , but for for smaller studios and home studios it remains pretty tricky, even undoable... and it was very difficult to exchange sessions between LE and HD without losing precious time and in the end almost everything.

And I found recently that neat kind of solutions.

Neyrinck mix 51 plugin for Protools. I wasn't aware of that existing plugin before I started searching, and unless you already tried it you've had similar problems to mine.

This plugin solves quite a lot of troubles, that's why I like it. First, it works with Protools LE/9 versions and second is very affordable (189 $ only) regarding what you can do with it. Neyrinck team is clever, very clever, you can even try it for free and download the demo version... and ?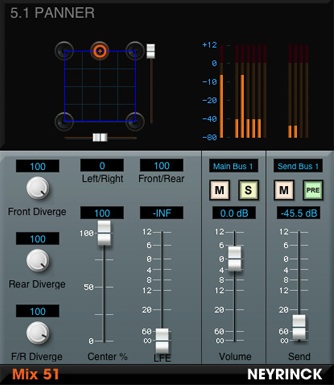 So what is it exactly ?

The Neyrinck Mix 51 plugin is a 5.1 surround panning and mixing plug-in for Pro Tools LE systems. (no kidding !)
You can insert unlimited mono Surround Panner and stereo Surround Panner plug-ins on your track to pan, mix, and send to the Mix 51 Surround Mixer busses.
The Mix 51 Surround Mixer plug-in provides 30 channels of outputs grouped as three, 5.1 main busses and three, quad effect send busses so you can easily manage dialog, music, FX, and surround reverb send submixes.
But the best is that it also provides a stereo LtRt output fully compatible with Dolby Pro Logic™ II decoding systems. (I know I know it sounds too exciting to be true honnestly...) and wait for it... both the Mix 51 Surround Panner and Surround Mixer feature fully controlable through usual automations tracks.
You can even import your session in Protools HD for the final surround mix, although you could do it all in the box (I mean even in the Mbox).
So what you think ? Nice ?
Here are the full specifications from the Neyrinck website :
Mix 51 Features

Mix 51 Surround Panner Features:
• Mono or Stereo Surround Panners can be inserted on an unlimited number of tracks
• Fully automatable panning/volume/send level/mute/solo
• Front, rear, and front/rear divergence controls
• Center percent adjustment
• Pre or post-fader send level
• Separate LFE level control
• Input and output metering
Mix 51 Surround Mixer Features:
• Three 5.1 mix buses and three quad send buses with unlimited inputs
• Stereo LtRt output compatible with Pro Logic™ II decoding systems
• Fully automatable volume/mute/solo
• All outputs for each bus are available on aux trackinputs for bringing in to the Pro Tools mixer for the final 5.1 mix
• Optimized CPU usage (only mixing performed on buses being used)
• Compatible with Pro Tools 9, Pro Tools HD, Pro Tools LE

189.00 USD

More info and download demo version here.
Peace.
Sam.




Return to Home ?

Go from Surround mixing in Protools LE to Music Composition Blog ?

Go to Free Audio Plugins for Protools Mac OS X ?

Go to Free Kontakt Sounds ?


Leave your comments
So ? what you think ? Share with us about this article and leave your comments...
What Other Visitors Have Said
Click below to see contributions from other visitors to this page...

Thanks Not rated yet
Hi Sam, thanks it's exactly what I was looking for. I think I can afford investing 200 bucks to mix in 5.1 surround in my home studio for small production …